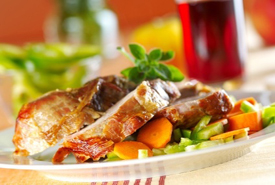 The cuisine of the Ardèche takes its inspiration from the rural character of the Département Eating well is a by-word here.

First of all, a little history...
The châtaigne (sweet chestnut) and the potato have long been the two basic elements of Ardèche cuisine.

On the one hand the sweet chestnut is used to make the excellent crème de marrons (puréed candied chestnuts) which has for many decades been the flag-bearer of Ardèche cookery across the world, but it is also responsible for marrons glacés (glazed sweet chestnuts), made from the largest sweet chestnuts from the département, which have sugar added and are then candied. Not forgetting, of course, the sweet chestnut soup known "cousina" which makes a hot and creamy starter for any meal from the Ardèche

The potato, known in the Ardèche occitan dialect as the "Tartifle", is used in two dishes that are typical of the Ardèche: Crique and bombine. A crique is a flat cake made from grated potato with salt and pepper and cooked in a frying pan in a little butter. The bombine, cooked on a wood fire, is a simple and friendly dish made using potatoes, carrots etc.

Today there are a number of dishes that have grown out of the old recipes and which play an important part in the cookery of the Ardèche:

Maouche, (a type of pork 'haggis') from the plateau of the Ardèche, is a cabbage and minced pork forcemeat, which is stuffed in a pig's stomach and cooked by being boiled slowly. The very slow cooking makes this delicious dish, served on its own, worth waiting for.

Pork has always been closely linked with the lives of the country folk of the Ardèche, with the traditional "tuade" (pig-killing) becoming the occasion for a village fête. Charcuterie, sausages, pâtés, ham, caillettes, (minced meat mixed with cabbage or chard then cooked in a cloth) etc. made their appearance on the table at every mealtime.
With the changing of the seasons, the famous cèpes mushrooms make their appearance. The ritual of gathering them from the woods and the enjoyment of eating them accompanied with parsley and garlic are still moments of pure pleasure for many.

The cherry on the cake are the vineyards. These cannot be ignored, since they provide the quality wines, such as Merlot, Viognier and so on, to accompany the hearty meals.

Gastronomy isn't just an empty phrase in the Ardèche. Come and discover what it really means here.

Accept our invitation to the Ardèche, with its variety of regional produce, for some unforgettable meals.